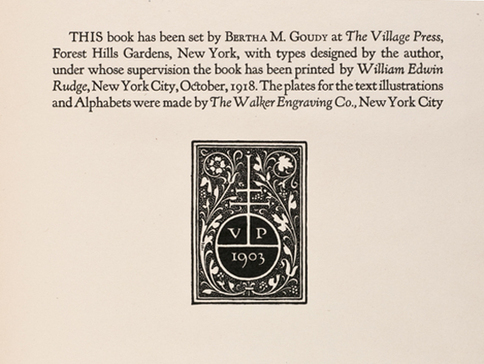 See on www.feltandwire.com [Search for this link on the Wayback Machine]
On her blog "Felt & Wire," Alyson Kuhn shares her foray into the origins of the word "colophon." [Search for this link on the Wayback Machine]
In ancient Greece, Ionia to be precise, the city Colophon stood on a summit.   The colophon,  the final page stating the title of the work, who made it, when it was made, how it was made, for whom it was made, etc., stands at the summit of the book, justifying its being named for that city.  It is the maker's signing off from the summit of the foregoing text.  That "signing off" can be construed as the "finishing touch," which might refer to the reputation of the Colophonian warriors for being the deciding factor in many a battle, hence the phrase of Erasmus 'Colophonem adidi' – 'I have put a finishing touch to it.'
The name of Kuhn's site — "Felt & Wire" — reflects her passion for paper.  She tag-lines it as "Impressions from the Paper-Obsessed," which explains why her entry does not go back as far as the first appearance of colophons on clay tablets — nor ahead as far as their regular appearance in websites (an example of which can be found here).
But there is a functional logic for going back as far as those biblical "colophons." They are recurring phrases related to the "toledoth"passages that appear in the Genesis tablets.  Toledoth is Hebrew for "generations" as in "These are the origins [or histories] of Noah," which a convincing group of Hebraic scholars translate in the possessive.  As in "The foregoing book relating these stories belongs to Noah" or "This is Noah signing off."  So the toledoth perform some of the same finishing functions as colophons.
There is also, according to the Edenics site, an etymological reason for going back to the Hebrew.   The word "colophon" itself has its roots in the Hebrew word "Gimel-Lamed," meaning "wave" and "a prominent man-made heap."
Certainly many books fit that etymological definition (a prominent man-made heap) and deserve a colophon whether they have one or not!
Looking forward, though, it is endearing that so many websites bear the colophon device and, in doing so, raise the questions, "Should we think of these websites as books?"  "How might the use of traditional parts of the book in websites or ebooks tell us what the book will be beyond the Age of e-Incunabula?"
From what better vantage than the colophon to look back for the origins of the book and forward for its future?