See on Scoop.it – Books On Books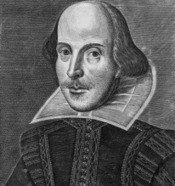 The Bodleian is offering a prize draw to attract participation in its crowdfunding for the digitization of its First Folio.
"Dr Paul Nash, an award-winning printer, will reprint Leonard Digges's poem in praise of Shakespeare from the front matter of the First Folio. It will be printed on a folio bifolium of English, hand-made paper and printed in the Bodleian Hand-Printing Workshop at the Story Museum.  The text will be composed by hand, using types first cast in the 17th century, with ornaments.  Each sheet will be printed with a title and colophon, sewn into a paper cover."
They call this "kickstart" the "Sprint for Shakespeare" in conjunction with the cultural and sports Olympics events going on this year.
Where there's a Will, there should be a way.